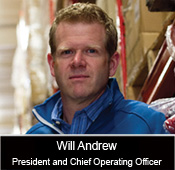 5 Hiring & Selection Questions with Will Andrew: President of Trimark Sportswear, Top 40 Under 40 for 2010.
Will Andrew was recently named one of Canada's Top 40 Under 40 for his work with Trimark Sportswear Group, official licensee for the Vancouver 2010 Winter Olympics. He's also been asked by Canada's national newspaper,The Globe and Mail, be to part of a special feature column on company culture.
It goes without saying, that will has hired a lot of people and learned a lot on his path to running Trimark, a 100-employee company.  So let's not waste any more time and see what Will has to say about his hiring and selection experience.
1)  What's the best advice you've ever received regarding hiring employees?  Why was it the best?
Hire for attitude first then skill.  If you don't, the culture will suffer and the execution will not happen.
2)  What's the most effective interview question you've ever used in employee hiring ? and what was the outcome from using it?
If we were meeting three years from today, what has to happen over that time for you to feel good about your progress?
This tells me if they have a vision for the future and helps me know how or if I can help them.
3)  When it comes to hiring a new employee, what is the best time/money-saving tip you know?  Can you quantify your savings?
Have them do an assignment and test their written skills and attention to detail.
4)  What's your best advice for avoiding hiring mistakes in the hiring selection process?  Why?
Have multiple people doing interviews and use a Kolbe index to determine the fit.
5)  Where (from what source) do you tend to find your best small business job candidates?  Why is it the best source for you?
Workopolis ? lots of candidates and fast.