Trimark Sportswear adds another star to their Sales Roster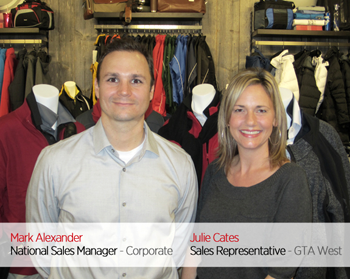 Trimark Sportswear is pleased to announce that Julie Cates will be joining us as a Sales Representative in our GTA West territory on December 10, 2012.
Julie brings a wealth of sales experience and devoted customer relationships with her into this role. For the past 2+ years, she has been focused on delivering results and developing new business opportunities within the Corporate Promotional channel, selling hard goods into the GTA territory. This includes some of the same customers she will be servicing with Trimark.
Along the way, she has proven her business acumen and been recognized as the 2011 Gold Image Award winner in the Suppliers Sales Representative category and she's been nominated again for 2012! Prior to her success on the supplier side, her impressive experience includes 6 years as an Account Executive at Plain and Simple.
Julie is a perfect fit for Trimark and our customers. Our mission was to find an individual who could jump right in and continue the same service levels our customers have been accustomed too. Julie is definitely a top performer and we are so pleased to have her join our existing team."
—Mark Alexander, National Sales Manager – Corporate
Julie's enthusiasm, high energy and commitment to success will be a huge asset to our customers and Trimark.
Contact her starting December 10:
julie@trimarksportswear.com
Mark Alexander
National Sales Manager - Corporate
D: (905) 883-7149
E: marka@trimarksportswear.com