Strengthening our diverse communities
We believe that in order to be socially responsible, it is important to reach out and strengthen our diverse communities. We are proud to support over 10 different causes throughout Canada, among them "True Patriot Love", a charity for veterans and Camp Oochigeas a residential camp for children living with cancer. We are long standing community leaders and support our local Christian Prayer breakfasts. Our employees participate in many meaningful local charities. We are committed to the Heart and Stroke foundation by putting together a team for the Big Bike Ride every year. We fund raise and employees are allowed paid time off to participate in this important event. Every November, men in our office grow their moustaches to raise awareness and funds for men's cancers.
We are committed to our global partners and understand that their communities are reliant on the textile industry. Our presence is sustaining the livelihood of many families. The Olympics Committee wanted us to use our volumes to improve the lives of those working to produce our garments. The Committee demonstrated their trust in us as we were the first licensee permitted to produce Olympics merchandise in Bangladesh because of our solid procedures and frequent audits. We set realistic goals for the factory owners and educated them on how to improve their audit scores and helped them to achieve their goals. This was a tremendous success as all our factories improved.
Our involvement must reflect the highest recognized responsible standards. Our code of ethics is built around the universally recognized UN Global Compact. Additionally, we engage the services of internationally recognized 3rd party audit firms to verify that our factories are performing to the highest standards in the apparel industry.
Human Rights -We insist that all employees are treated fairly. All our factories must educate their workers on their rights; managers must have relevant training; the working environment must be free from discrimination and harassment, and all Health and Safety precautions must be observed.
Labour - All workers are entitled to basic labour rights: compensation at least in accordance with the minimum compensation required by local laws; legal limitations on the number of hours and days worked; the right to free association and the right to exercise collective bargaining; under no circumstances will we tolerate forced or child labour.
Environment - Our factories must be in compliance with local environmental laws and encourage the use of environmentally sustainable practices. Locally, we have several shredding bins located throughout our building to protect confidentiality. A service provider comes in regularly to empty the bins and recycles the shredded paper. Employees have recycle bins at their work stations. We provide reusable mugs, cutlery and plates for our employees to use rather than using disposable. Our orders are placed electronically, thereby reducing paper waste. Our corrugated boxes are sent to a compactor and recycled.
Anti-Corruption - Trimark values are built on a firm foundation of honesty and trust. All business activities are conducted in an open and transparent manner.
One Product. A Better Solution.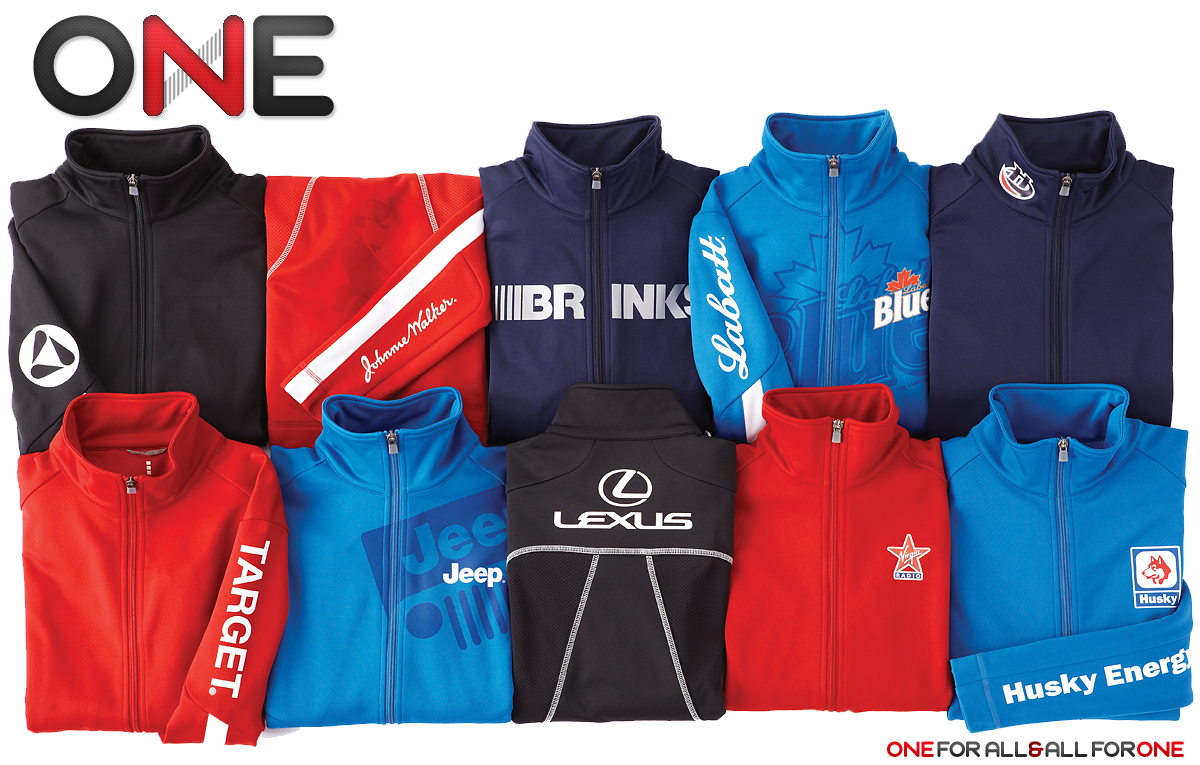 Our ONE campaign was more than an impactful decorated jacket, it was our mark to create an awareness of the social compliance behind developing a product from start to finish, and why it is so important to consider in the apparel branding industry.
Our code of ethics is important to us, so we've created long-term partnerships with our factories overseas, our stakeholders and supporting customers. With our strong relationships and a vision for a better world, we were able to tell the story of ONE as a transparent journey from meeting the designers and sewers of each individual garment to Trimark's impactful decoration and reusable packaging. You can see the story of ONE on our microsite, www.trimarkone.com.
When you purchase a ONE jacket, you are helping make our vision for "ONE WORLD, ONE PRODUCT, ONE BAG together to create ONE DIFFERENCE" a reality. The ONE campaign has allowed us to reduce needless waste, streamline manufacturing processes, and eliminate duplications. The savings we have uncovered through this process were reinvested back into each garnment, resulting in a classic product enhanced with our unique impactful branding options and high-quality reusable packaging.
We've created a socially compliant and environmentally friendly way to produce a finished branded garment, and create a real difference. Learn more about ONE at www.trimarkone.com. Click here to order your ONE - First jacket today.