High Performance • Collaboration • Revolutionary Strategy
We have a culture of high performance, collaboration and revolutionary strategy. We cultivate an environment of authenticity and empowerment where our core values remain an integral part of our culture. They give us confidence that we are doing the right thing because they guide our daily decisions. We believe an achievement oriented environment is motivating, inspiring and energizing.
Our energetic and entrepreneurial management team is passionate about coaching and development. We support growth by learning what our employees want in their own development. Our employees are encouraged to volunteer for and are sometimes selected to participate in cross training, special projects and stretch assignments. Click here to view bios of our Leadership team.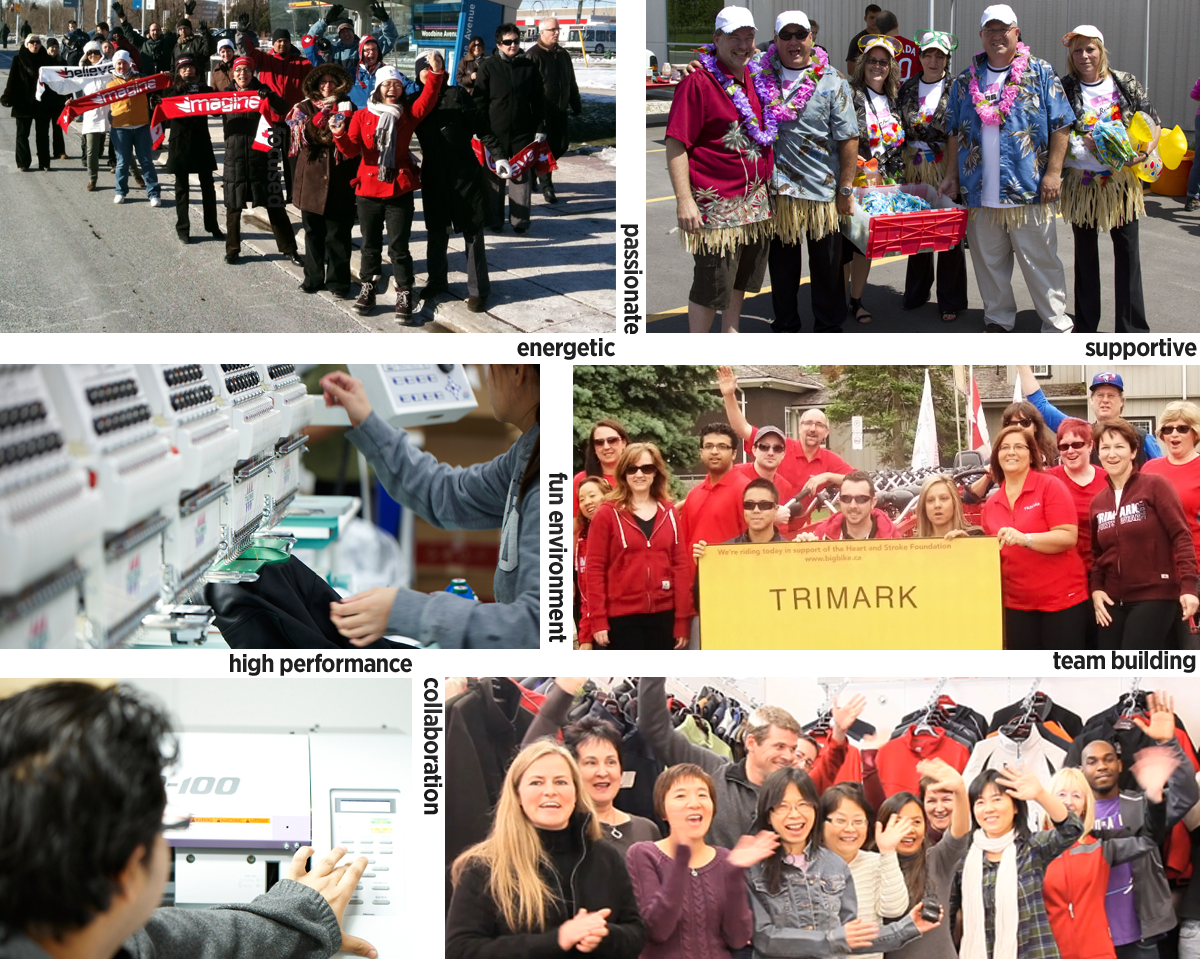 Our Social Committee is active in planning activities throughout the year that promote team building, individual expression and a fun environment. By creating a fun and productive environment, our employees are fully engaged and aligned with our culture and build personal and professional relationships.
Canada's Most Admired Corporate Culture
In late 2013, Trimark was honoured as one of Canada's 10 Most Admired Corporate CulturesTM. This prestigious award was given by Waterstone Human Capital and acknowledges the best-in-class Canadian organizations that have a culture that has helped them enhance performance and sustain a competitive advantage. To learn more about Canada's 10 and Trimark, see our News & Press Release, "Not Perfect; But Admired!"
Employee Stories
Mark Sear
"My first job in Canada and one in which the culture is reflected by all employees working in the business as well as on the business. I'm delighted to say that over the last year, I have been fortunate enough to be part of Trimark's transformation into a decorating powerhouse and a real force for innovation within the industry. I'm proud of our products, proud of the devotion and the enthusiasm of my colleagues, and proud to play my part in the continuing success story that is Trimark."
Winnie Wong
"I am proud to work at Trimark because I like the people here. We collaborate as a team, building trust. Trust needs to be earned and this is a powerful message that I am proud to promote with the people I work with."
Bill Horst
"Upon my arrival at Trimark, I quickly realized that I had found an environment that promoted original ideas and thinking differently about challenges. I am very proud to be able to work together with everyone in the company, with a high level of trust to try new things and a goal to change our industry with the things we accomplish. At Trimark, there is a high degree of collaboration that allows us to accomplish things, which at first glance weren't thought to be possible. I am very proud going home each day thinking about what we have been able to accomplish, with excitement about what is still ahead."