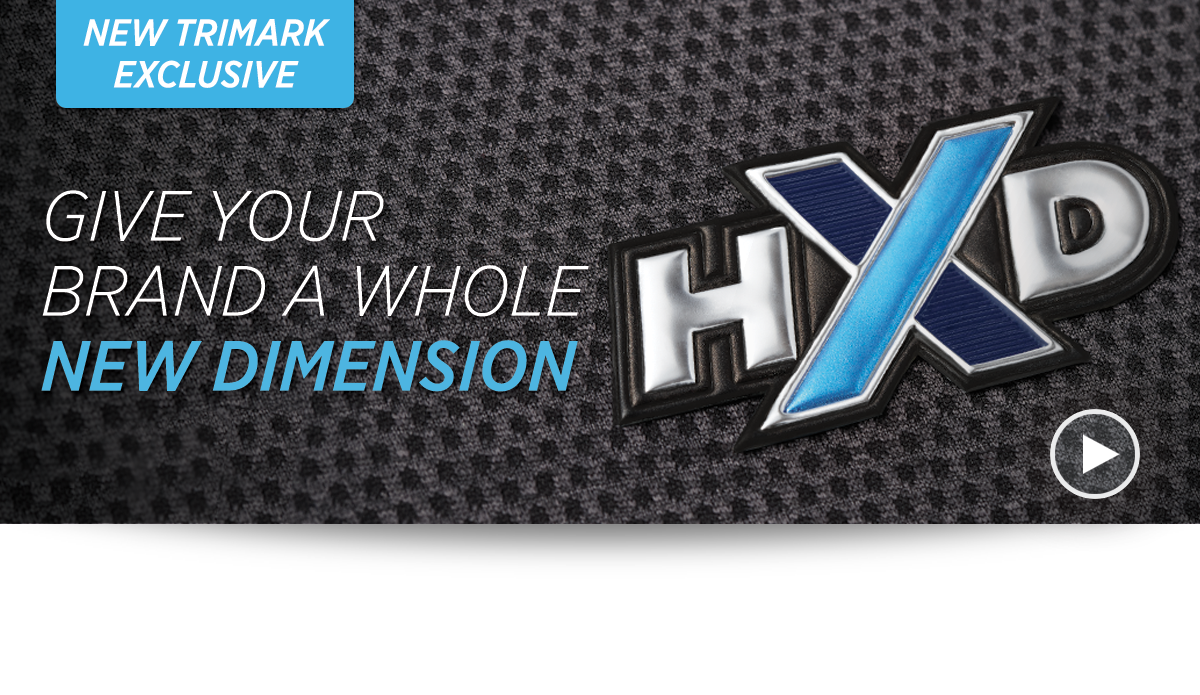 THE NEW DIMENSION
Introducing HXD, a unique decoration method that offers all new possibilities for your branded apparel. As the exclusive provider of this cutting-edge method in the United States and Canada, we're the only supplier to offer it on our own apparel. What really separates HXD is the added dimension it brings to a logo, creating a subtle pop from the apparel surface.
Trimark is the exclusive provider of this patented manufacturing process in the United States and Canada.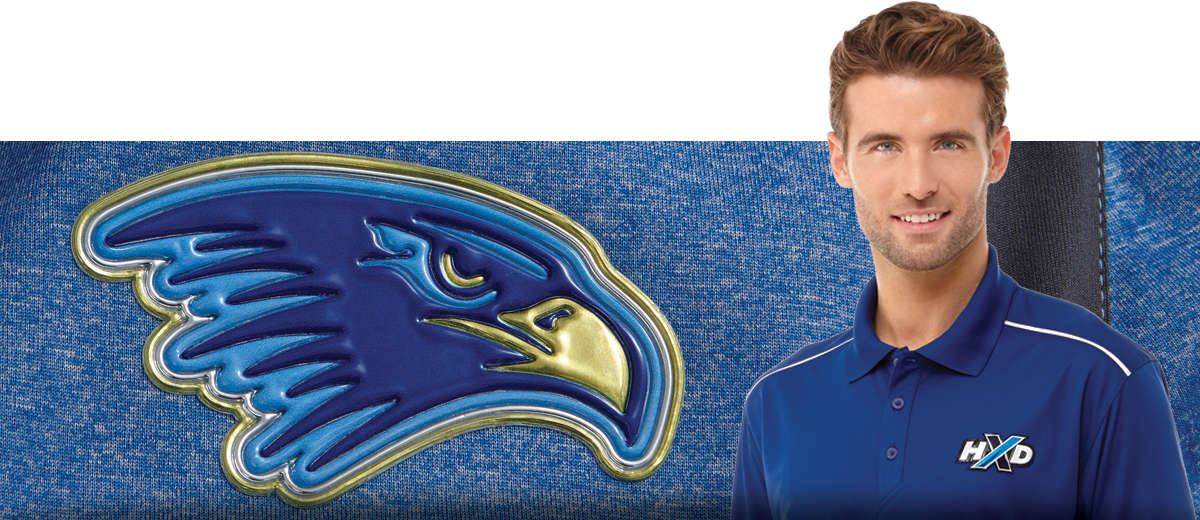 THE NEW QUALITY
HXD uses a patented manufacturing process to combine the best attributes of two methods: the surface interest and high perceived value of embroidery, and the unlimited colour, incredible detail and location versatility of True EdgeTM Transfer.
HXD is remarkably durable, allowing it to be used on everything from high-end automobiles to textiles. The adhesives have been tested for both washing machines and dry cleaning, and HXD will be available for almost every garment we sell.
THE NEW ELEGANCE
HXD adds both a reflective quality and new dimension to subtle tone-on-tone decoration.
DOWNLOAD SWATCHBOOK
---
THE NEW POSSIBILITIES WITH HXD
With HXD, you can choose a standard or metallic finish.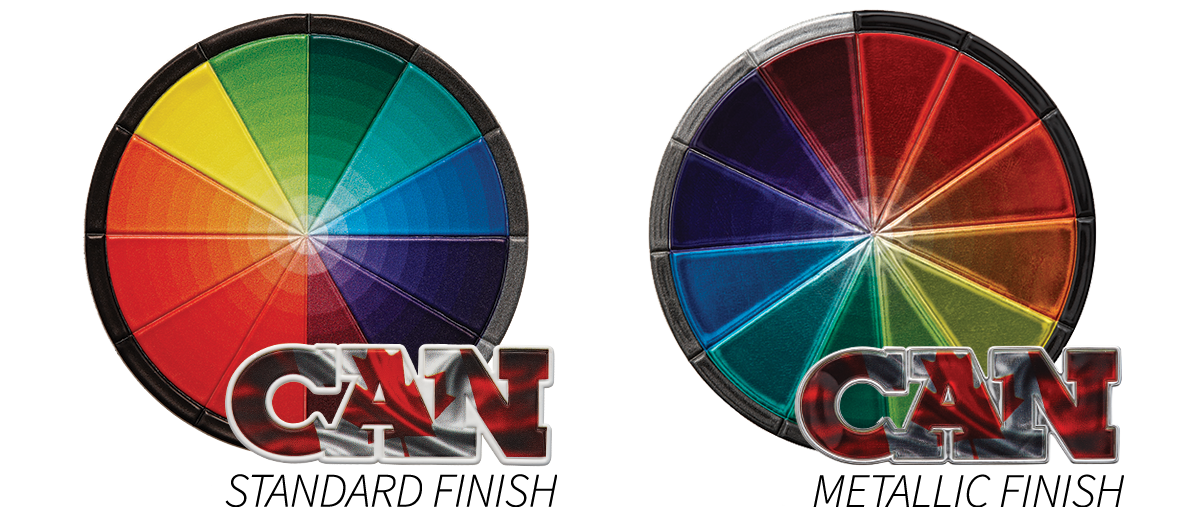 ---
SPECIALTY FINISHES
Want an even bolder look for your brand? HXD specialty finishes enhance your logo with photo-realistic textures. Give an existing colour a metallic luster with a specialty finish like gold, silver or chrome.

---
HXD IMAGE GALLERY
HXD offers all new possibilities for your logo - including three unique finishes. Check out our image gallery for a closer look.
VIEW HXD GALLERY
---
DIMENSIONING
The dimensioning process prepares your art for reproduction in HXD. Combining artistic design expertise and high-tech mechanical processes, there are three steps. Dimensioning is done by skilled designers who've been trained in the process, and there is an associated fee.

DOWNLOAD SAMPLE PROOF
---
EASY AS 1.. 2.. 3
First, decide whether you want a specialty finish like gold, silver or chrome. Then send us your logo, and we'll take care of the rest. It's as easy as 1, 2, 3.
Send us your vector art file.
Choose a standard, metallic or specialty finish.
We'll handle all of the rest.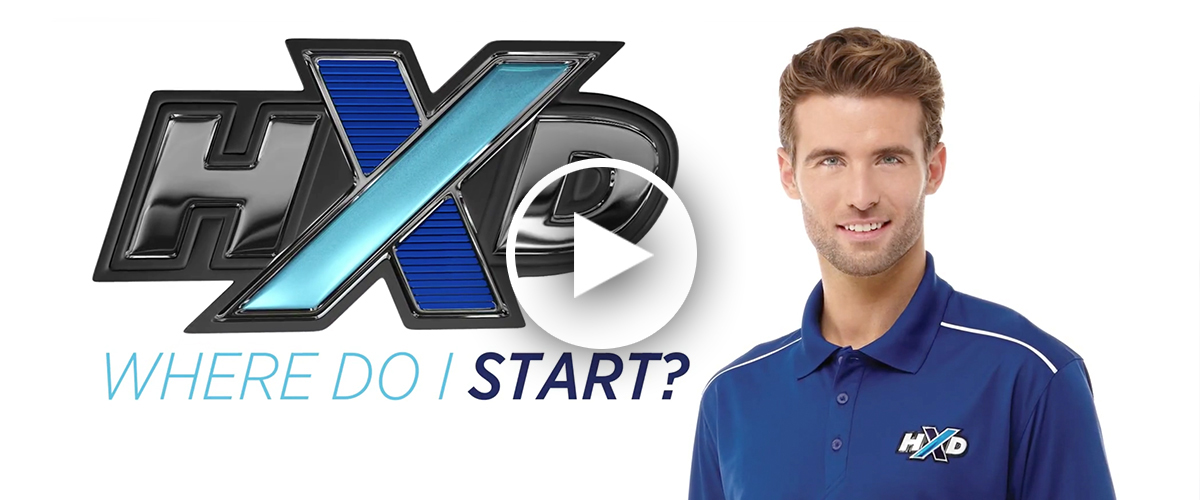 ---
Ideal Products For HXD
HXD is versatile - you can use it on any of our styles. But it's particularly well-suited to wovens, baseball caps, softshell jackets and polos. HXD has also been wash tested (up to 25 washes).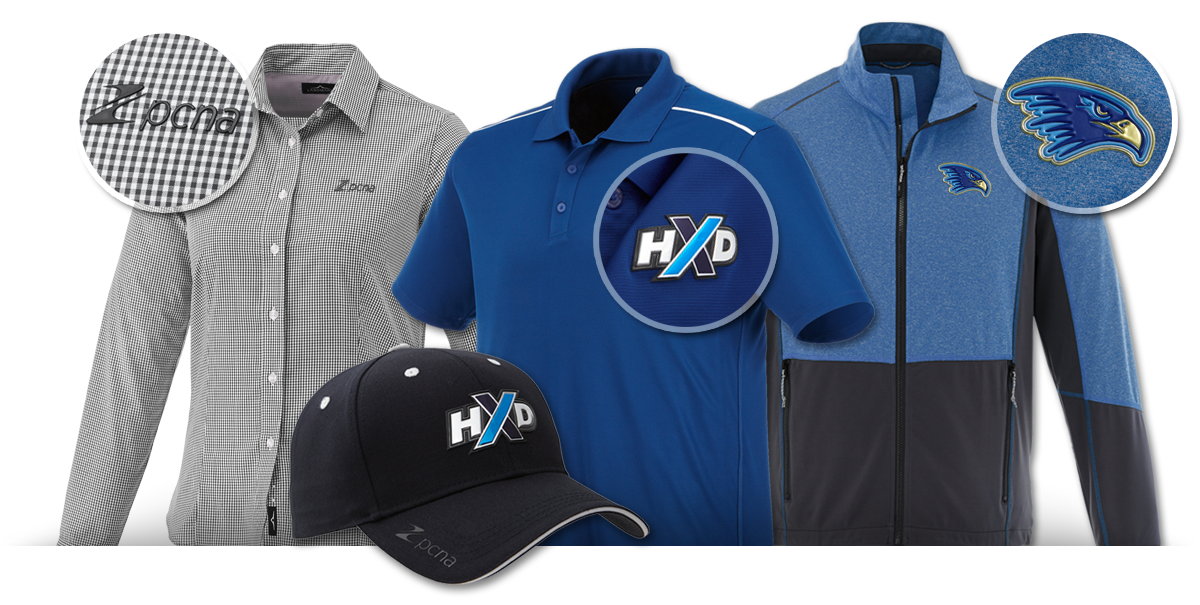 Wovens

Polished look that complements dress shirts
Can be applied to shirt pockets
Tone-on-tone application creates refined look
Dry clean and wash (up to 25 washes) tested

Polos

Unique retail look
Tone-on-tone application creates refined look
High-impact alternative to embroidery
Polished look

Ballcaps

Retail trend
Added dimension with higher detail than embroidery
Can be applied to multiple locations

Softshell Jackets

No bleeding or dye migration
Won't compromise waterproof materials
High-impact retail look, especially with chrome luster
VIEW STYLES
---
HXD PRICING
Running Charge (maximum size of 12 square inches)
$ (A)
12-99
100-224
225-374
375-499
500+
First Location
Included in the "all in price"
Add Locations
$6.50
$6.35
$5.60
$5.00
$4.90
Surcharges
Metallic or Specialty Colours: Add $2.00 (A) per piece on all quantities.
Setup Charges
Dimensioning Charge: $50.00 (G)
Tool Charge: $175.00 (G)
Additional Charges
Folding and Polybagging: No Charge
Paper Proof (allow 2 business days): No charge for first proof ($10 per revision)
Timelines
Dimensioning: 48 hours
Production: 7 business days from proof approval (for quantities up to the 4th column). Call for lead times over 4th column.
---
VIDEOS